The Association for a Free University of Women
Paola Melchiori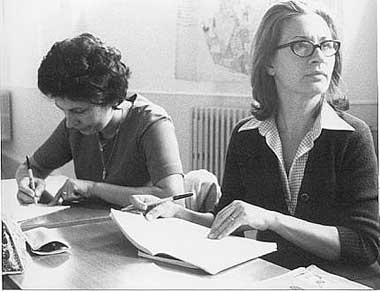 The Association for a Free University of Women is a cultural, non profit organisation founded in 1987 by a group of women coming from various social and cultural backgrounds.
The Association, which has presently nearly 300 members, continues an activity which was spontaneously organized during some courses for adults attended by women and during the creation of family planning services for women health care.
The aim of this association is the research on the relationship between female identity and women's cultural work.
The statute of the Association provides for:
a) Promoting the understanding of social problems through researches, studies, travels, documents, meetings, discussions.
b) Forming groups of members and non-members to work on cultural, environmental, historical, political, economical, religious problems.
c) Planning and managing school, courses or cultural and professional updating for members and non members.
d) Editing magazines, audiovisual and cultural materials.
e) Promoting shows, parties, exhibitions, artistic and cultural events.
HISTORICAL PROFILE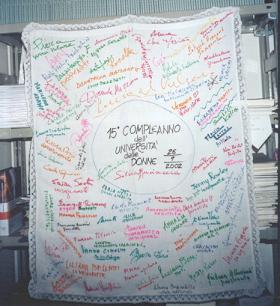 The branches of the research which meet in this project are:
1) The experience of adult courses for women.
Since 1976, 97 courses on female condition have been held after junior school-high school for nearly 2,000 women.
At the beginning, women who attended the courses were generally middle-aged housewives and retired workers who, at the end of a period involved in family care, had time and energy to be utilized. Cultural training seems to be an appropriate answer to the needs arising when life is not overwhelmed by family care and a new solitude brings out new, old or forgotten requests.
As the time went by, the women's population attending the courses changed, widened and differentiated including young students and workers who wanted to reinterpret the meaning of their studying or working from a female point of view.
Culture is not a way to attain emancipation, but it is a precise answer to intellectual, existential and vital needs. Culture becomes an instrument of research in life, and "quality" of a way of life, not "quantity" to be possessed.
This is an original experience, compared to other ones, i.e. Women Studies, since the aim of the research is not only to reinstate female presence in various disciplines, but to investigate the meaning of the fantastic and real man-woman, masculine-feminine relationship which pertains to the origin and life of any kind of knowledge, the building up of differentiating and the transformations that a female subject brings into them.

School groups carry on their researches in a place where:
a) The study of contents goes along with an investigation on the meaning and
reasons which stay behind every cultural passion.
b) Horizontal and vertical relationships among women are investigated together with cultural contents.
c) One analysis how female identity expresses itself (fades, disguises itself or transgresses) inside a cultural experience.
2) The experience of family planning services for women health care.
The courses of the Free University of women fulfil the women's need to be cured not only in an objective and medical way, but also to deepen the knowledge about every non-physical condition tied to the psychological discomfort which lies before and around illness and well-being. Often only people who is experiencing those conditions is able to research and identify them.

3) The experience of Milanese feminist collectives, particularly those devoted to the analysis of female writing, where the relationship between sexed subjects and symbolic world has been studied in depth.
The association for a Free University of Women, originated by this wide experience is nowadays acknowledged as a place where women create culture without giving up their own way of thinking, feeling , having opinions. Inside this Association it has been formed a stable group of women who, together with teachers, built up in many years a real cultural and organisational autonomous path inventing structures and forms of cultural work and organizational continuance.
Since the Association has always been autonomous, funds come from voluntary work and subscriptions of members. Region, Town Hall and province contributed to some initiatives of the Association.
THE STRUCTURE OF THE ASSOCIATION
A Managing Committee is elected by members every year. It is made up by ten members, four teachers and six students, and it is responsible for organization, cultural planning and administration. The managing Committee is helped by a Committee of Teachers and Technical Committee set up every year according to the main activities of the Association.
TRAINING AND RESEARCH ACTIVITIES
The Association organizes, all over the territory, decentralized courses, training and research activities, meetings, public debates and numerous common, central meetings to discuss the results of the work done.
1) COURSES/SEMINARS
One year courses (2 or 3 hours a week) on various cultural fields and expressions. These are groups of work research-teaching involved in the study of historic disciplines (literature, anthropology, philosophy , history, psychology, cinema, theatre, music, medicine, architecture, history of art, economics) and in understanding women according to the above mentioned hypotheses. Meetings are conducted by an expert who is occasionally helped by external consultants.
2) RESEARCHES ON THEMATIC FIELDS: work , writing, intercultural relationship among women, training to development.
These are yearly thematic studies which progressively find their work materials: seminars, symposia, public meetings.
3) TRAINING GROUPS/TEACHERS' RESEARCH
This is a group of teachers which constantly works in projects and training, and that, after these experiences, published a book "Verifica d'identità" in 1987.
According to the phases of work, the group has monthly or weekly meetings during which planning, production of materials, evaluation of didactic work, of study or updating seminars, etc. are discussed.
4) DISCUSSIONS AND PUBLIC MEETINGS ON SPECIAL SUBJECTS
Every year subjects of special interest or relevance to the present (women's political activity, women's politics towards war and nationalisms, women's attitude towards development, etc.) are pointed out. They become the guideline of a series of meetings that are open to the public and to other national and international women's experiences.
The Association publishes lecture records in which notes, written material, and reflections made during courses are gathered.
These materials are useful to make comparisons among various courses, to use them as a didactic support, or as a documentation for other activities than research. Materials come from a collective work of students and teachers.

In 2002 the Association received a Certificate of Merit from the City Municipality.

The Association cooperates with WW IFUN (International Feminist University Network)